About Peter Rosenthal
Brought up in a family running girder fork motorcycles Peter took his first rides on the pillion seat of his father Richard's 1934 New Imperial Model 30. Later he and younger sister Lucy vied for turns on the New Imp's inflatable passenger seat.
Aged 16 Peter bought a 10 year old Honda Express moped, secured his CBT and took to the roads riding to and from the Saturday job plus visiting family and friends. A year later the Express gave way to a Honda CG125 and he passed his motorcycle driving test on the second attempt. Suddenly the 125 Honda was too slow and along came a late secondhand Kawasaki EL250, which served on the daily commute to his job as a chef in a nearby hotel.
Buying a part rebuilt 1961 Kreidler Florett 50cc from the estate of the late Brian Woolley fired his restoration bug. The first start-up day is fondly remembered and the grey Kreidler enjoys a special place in Peter's collection. Later scrimping and saving enabled him to acquire a handful of other machines including a sporting BSA single, the Norton 16H and a veteran Campion in varying states of dismantle, and in the case of the Norton riddled with rust.
The growing interest in older motorcycles encouraged Peter in 1999 to swap his chef's whites for the autojumble circuit trading as Pete's Bikes. Initially dealing in parts for any older machines and the occasional cheap project, after a few years he decided to restrict his business interests to pre 1960 machines with a focus on all pre WWII motorcycles.
A chance discussion with Australian friend Chas led to Peter marketing replica inverted handlebar levers in polished stainless steel. The range now stocked has grown to include replicas of Bowden clutch levers, Best and Lloyd filler caps, Philipson Pullies, Mabon Clutches and more. Alongside this control cable making materials, moulded magneto and dynamo parts, fibre washers, rollers, loose ball bearings, rubbers and more is stocked to assist owners of veteran, vintage and older classic motorcycles and the list is continually growing.
In 2012 with support from his friends in Australia Peter began stocking replica parts for Pilgrim oil pumps. Again the list regularly grows, recent additions include plunger, indent and ball valve springs made to original specification in the UK. Pete's Bikes now undertakes full mechanical and if required cosmetic rebuilds of many types of single and double Pilgrim pumps.
When work commitments permits Peter enjoys fettling and riding his older machines, is a Sunbeam MCC Pioneer Run regular on a 1910 499cc Campion-JAP and regards the black 1960 BSA A10, bought a few years ago, as his ideal 'modern' motorcycle.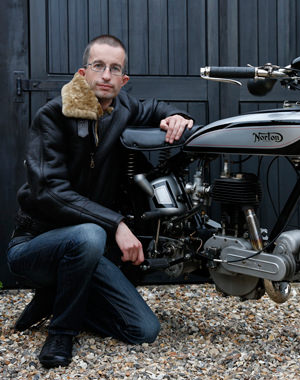 1979

1996

Passed motorcycle driving test

1998

Bought and completed first rebuild - 1961 Kreidler Florett

1999

2001

Entered my first VMCC Banbury Run riding a 1929 196cc Coventry-Eagle which I still regularly ride

2003

Began marketing first replica parts for veteran, vintage and pre-WWII motorcycles - inverted and Bowden type handlebar levers

2006

Entered my first SMCC Pioneer Run riding a friend's 1913 BSA. Have ridden every run since, usually on a 1910 Campion-JAP I restored

2009

Began mail order supply of selected replica parts for veteran, vintage and older classic motorcycles

2012

Started the Pilgrim pump overhaul and parts supply service